Meeple Fantasy 6
From RPGDL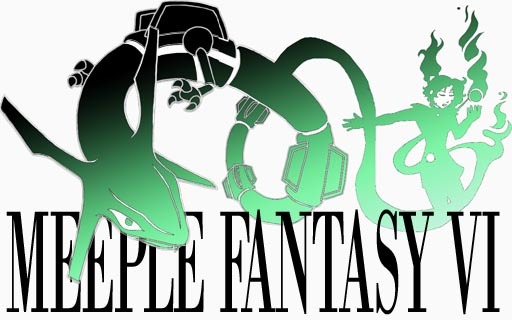 Based on the Final Fantasy III SNES game engine, Meeple Fantasy VI is a completely new story straight from the warped mind of our very own Meeple. While Terra is still our brave heroine and Kefka is our nefarious villain, you'll find a few different, though hopefully familiar, faces in this game.
Meeple has crafted a giant crossover game featuring the stars of some our favorite RPGs such as Shadow Hearts' Yuri and Valkyrie Profile's Lenneth. Every PC and monster has been redesigned or replaced with a cameo from another game to give the world a truly encyclopedic scope of RPGs. Just don't expect any serious plot to come from this...
Download the Current Patch from the RPGDL main server: http://www.rpgdl.com/MF6/MF6_03052011.ips
Cast

Terra Branford (Final Fantasy VI) : Our Heroine is once again Terra, representing the esteemed original cast and the Final Fantasy series as a whole. This alternate-world Terra is known for her penchant for wearing black and her improved skillset. No longer will you be grinding to level 99 for that golden Ultima, it's a much earlier spell now. Good thing, too. You'll be needing it much earlier.

Yuri Volte Hyuga (Shadow Hearts / Shadow Hearts: Covenant) : Hailing from the modern era, Yuri stands in for the famous treasure hunter of FF6 fame. Yuri has a sad past, a lost lover that he'd do anything to be reunited with, and a tendency to be over-protective of the girls he meets. He also likes to transform into monsters and destroy worlds. Yuri's Fusions and unique equipment are the key to bringing out his potential in Meeple Fantasy VI.

Lenneth Valkyrie (Valkyrie Profile series) : Our third star is none other than the tragic Valkyrie. In the world of Meeple Fantasy VI, it is the ever-present Aesir of Asgard who threaten the peace of the world, and Lenneth is one of their most powerful soldiers. The Chooser of the Slain finds herself betrayed by her masters, and joins the resistance against them when she is rescued by a certain Harmonixer. Her skills with a bow and her powerful Nibelung Valesti techniques make her quite a useful addition to the cast when fighting the difficult challenges presented in Meeple Fantasy VI.
Cast Changes

Edgar: Fayt Leingod (Star Ocean 3: Til the End of Time)

Sabin: Rolf Landale (Phantasy Star II)

Cyan: Ike (Fire Emblem 9: Path of Radiance)

Shadow: Tir McDohl (Suikoden series)

Gau: Laharl (Disgaea series)

Setzer: Vyse (Skies of Arcadia)

Strago: Ryu (Breath of Fire V: Dragon Quarter)
Relm: Virginia 'Ginny' Maxwell (Wild Arms 3)
Mog: Shady Thousand (Wild Arms 3)

Umaro: Jelze the Foomy Capsule monster (Lufia 2)

Gogo: Anime Guest Character Lina Inverse (Slayers series)

Rachel: Alice Elliot (Shadow Hearts series)
Banon: Roger Bacon (Shadow Hearts series)
Gestahl: Odin (Valkyrie Profile)
Espers: Various Pokemon (and a few assorted others)
Meeple Fantasy VI features an entirely new script and altered graphics, in addition to the removal of the Esper-learned magic system. Most abilities are learned from weapons and other equipment in this system.